Bulk Maple Syrup & Wholesale Orders
Buy Wholesale NH Maple Syrup & Products for Retail and Commercial Use
Fuller's Sugarhouse is proud to supply its pure maple syrup, sugar, candy and cream to restaurants and food and beverage producers located across the US. Our premium maple products are used to make granola, fresh juice, baked goods, sausages, gourmet items, and craft beer, among other items. Our quality ingredients not only complement the flavor of their products, they are natural, authentic, and healthy.
We'll work with you to determine which grade of syrup best meets your requirements, from amber-rich to dark-robust, and which package size is best for your process – from bulk maple syrup in gallon jugs to 55-gallon one-way drums. With 40 years of experience, we understand the service and quality our retailers and wholesalers need. You can also buy our bulk products online.
For the finest-tasting New Hampshire maple products and the best service, call us at 877-788-2719 or send an email. We look forward to hearing from you! Please contact us for wholesale pricing, custom packaging, and information on how to buy in bulk or open an account.
Why Choose Fuller's?
Suppliers and manufacturers turn to Fuller's Sugarhouse for several reasons: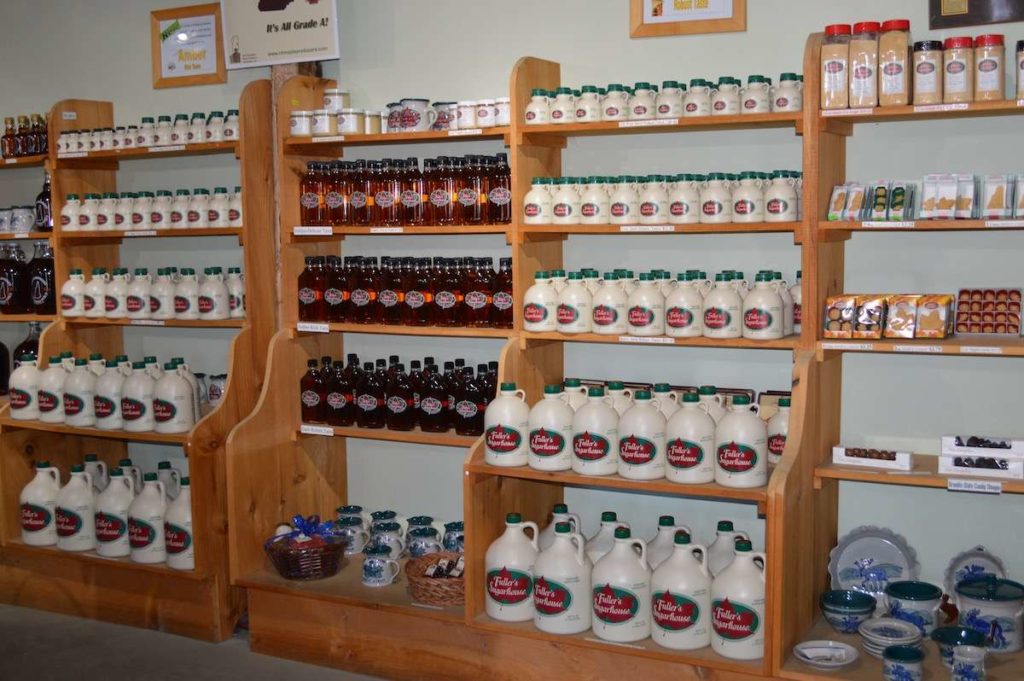 Our 100% natural products meet food safety standards.
Flexibility to provide requested volumes on time – when you need it.
Delivery in a timely fashion. We have regularly scheduled weekly deliveries in New Hampshire and ship via UPS nationwide daily.
Products supplied in containers that are easy to handle.
Ability to handle private labeling and bar-coding.
Responsive and friendly service.
We never run out! Each spring, we produce a large quantity of our award-winning, premium maple syrup and we buy from other producers in northern New Hampshire that meet our standards of quality. No order is too big or too small. And we are a nut-free environment.
Retailers, Restaurants, and Private Label
Order our delicious wholesale maple syrup, candy, maple cream and sugar in the quantity you want – from decorative glass bottles to gallon jugs, small boxes to large. We can ship in bulk maple syrup and products for your in-house packaging or handle private labeling and bar-coding to your specifications.
Maple Supplies and Equipment
Fuller's Sugarhouse also sells glass syrup bottles, plastic jugs and maple syrup supplies from tubing to evaporators. Visit our Maple Syrup Equipment page for more information.
We are committed to developing and maintaining "win-win" relationships with suppliers and manufacturers, partnering with them to offer the best tasting, high-quality products that will keep people coming back for more.