Kabobs with Maple Firecracker Sauce
Ingredients
Firecracker Sauce
1/4 C. fresh lime juice
1/4 C. Fuller's Sugarhouse pure maple syrup
2 T. Ketchup
2 T. Olive Oil
2 T. Soy Sauce
4 cloves Garlic
1 t. Crushed Red Pepper Flakes
1/2 t. Ground Black Pepper
1/2 t. Grated Lime rind
1/2 t. Salt
(optional) Small Hot Peppers
Kabobs
1 1/4 lb. boneless beef top loin or sirloin steak
3 Medium Onions
2 Medium Yellow Squash
2 Medium Zucchini
1 Large Red Pepper
12 8-inch wooden skewers
(optional) Sprig of Thyme
(optional) Small Hot Peppers
Preparation
Prepare Firecracker Sauce: In medium bowl, whisk together lime juice, Fuller's Sugarhouse pure maple syrup, ketchup, olive oil, soy sauce, garlic, crushed red-pepper flakes, black pepper, lime rind, and salt. Makes about 1 cup. Set aside.
Prepare Kabobs: On one skewer, randomly arrange 2 pieces of cubed steak and one piece each of onion, yellow squash, zucchini, and red pepper. Repeat to make 11 more kabobs. Place kabobs in large baking dish.
Pour 3/4 cup of Firecracker Sauce over kabobs in baking dish. Reserve 1/4 cup for brushing the kabobs as they cook. Let kabobs stand for 15 minutes.
Heat grill to medium heat. Grill kabobs about 4 inches above heat source for 5 minutes, turning frequently. Brush kabobs with reserved Firecracker Sauce. Cook 5 to 7 minutes longer or until desired doneness is reached.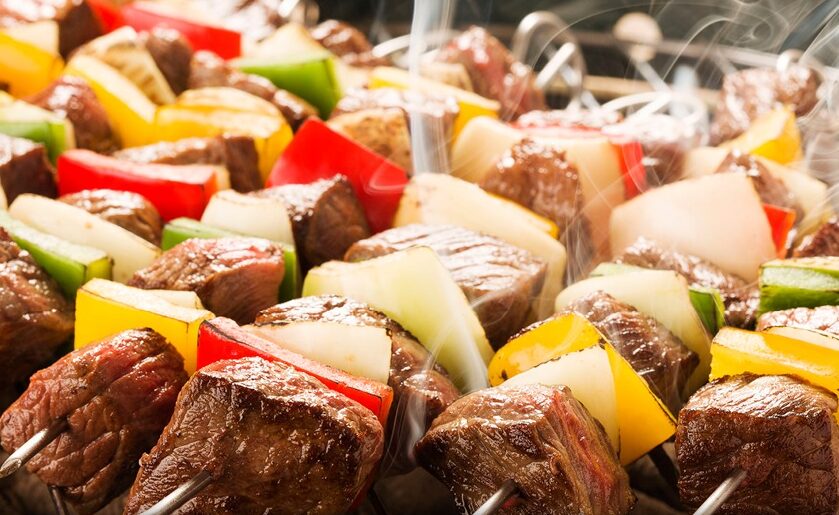 This Recipe Features:
---