Maple Spice Cake
Ingredients
1 cup all-purpose flour
½ cup whole-wheat flour
1 teaspoon baking powder
1 teaspoon baking soda
½ teaspoon ground cinnamon
½ teaspoon ground ginger
½ teaspoon salt
¼ teaspoon ground cloves
¼ teaspoon ground nutmeg
pinch of cayenne
2 eggs, lightly beaten
2/3 cup buttermilk
½ cup Fuller's Sugarhouse pure maple syrup
1/3 cup vegetable oil
1 tablespoon molasses
Frost, if desired
Preparation
Preheat oven to 350 degrees. Grease a 9-inch square baking pan or bundt cake pan.
Sift the flours, baking powder, baking soda, cinnamon, ginger, salt, cloves, nutmeg, and cayenne into a large bowl. Set aside.
In another bowl, blend the eggs, buttermilk, Fuller's Sugarhouse pure maple syrup, oil, molasses.
Make a well in the dry mixture and stir in the egg mixture, do not beat. Pour batter into the prepared pan and bake for 30 minutes. Cool in pan, then frost if desired.
See Maple Glazed Sugar Cookie recipe for a delicious maple glaze frosting.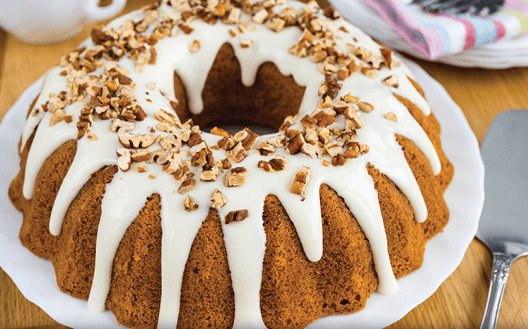 This Recipe Features:
---