Maple Bacon Potato Salad
Ingredients
1 (1 1/2lb) bag red potatoes
2 tablespoons canola oil
to taste Salt
6 slices bacon, chopped
½ medium onion, chopped
¼ cup apple cider vinegar
¼ cup Fuller's Sugarhouse pure maple syrup
¼ teaspoon (or about 1 clove) garlic, minced
½ teaspoon fresh thyme, removed from stem and chopped
Preparation
Preheat oven to 400 degrees F.
Quarter potatoes and place on a rimmed baking sheet. Drizzle with canola oil and sprinkle evenly with salt. Toss to coat all potatoes.
Bake for 25-30 minutes or until tender, turning half way if desired.
While potatoes are baking, make the vinaigrette. In a medium pan, cook the bacon on medium-high heat until browned and crisp. Remove bacon with a slotted spoon and place on paper towel to soak up excess grease. Drain all but 1 tbsp grease from the pan.
With the remaining bacon grease, sauté the onion until soft. Add the vinegar, Fuller's Sugarhouse pure maple syrup, garlic, thyme and half of the bacon and simmer over medium heat for 5-10 minutes, until slightly reduced. Set aside until potatoes are cooked.
When potatoes are cooked, toss with vinaigrette and garnish with remaining bacon and additional thyme if desired. Serve warm.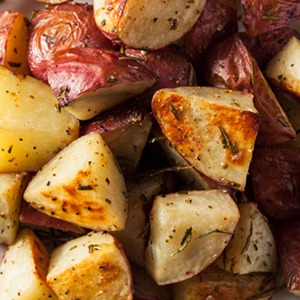 This Recipe Features:
---