Maple Mocha Waffles
Ingredients
For the Waffles
2 cups all-purpose flour
¼ cup unsweetened cocoa powder
1 tsp. salt
½ tsp. baking soda
2 cups buttermilk
2 eggs, separated
¼ cup each sugar and unsalted butter (4 Tbsp.), melted
½ tsp. pure vanilla extract
For the Syrup:
1 cup Fuller's Sugarhouse pure maple syrup
3 oz. milk chocolate, chopped
1 Tbsp. instant espresso powder
a pinch salt
Preparation
Preheat waffle iron.
For the waffles, whisk together flour, cocoa, salt, and baking soda. In a separate bowl, whisk together buttermilk, egg yolks, sugar, butter, and vanilla.
Melt 2 oz. chocolate in a bowl in a microwave; stir until smooth, cool slightly, then whisk into buttermilk mixture. In a separate bowl, beat egg whites with a hand mixer on medium speed until stiff peaks form.
Gradually add buttermilk mixture to flour mixture, stirring just until combined. Fold in egg whites just until combined, then fold in remaining 2 oz. chocolate.
Coat iron with nonstick spray, scoop ¼ cup batter into each well, and cook waffles until crisp, 7–8 minutes.
For the syrup, combine maple syrup, chocolate, espresso powder, and salt in a saucepan over medium-low heat, cook, whisking often until chocolate is melted and mixture is combined.
Serve waffles topped with chocolate maple syrup!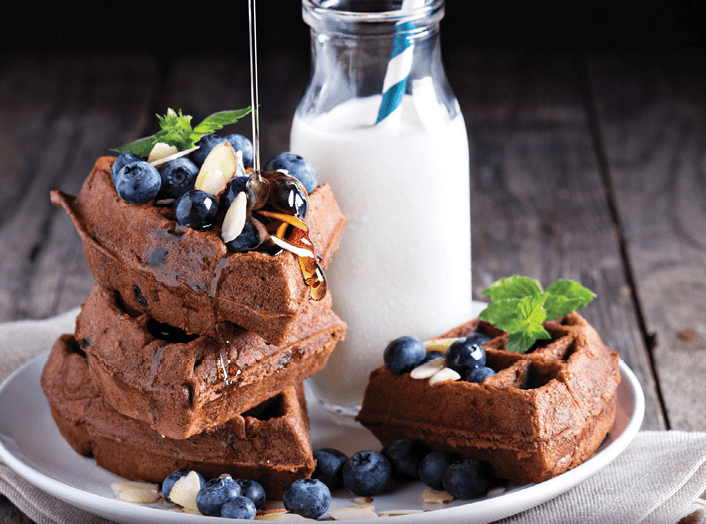 This Recipe Features:
---