Maple Apple Cranberry Stuffing
Ingredients
1 16-Oz Loaf Whole-Grain Bread
1 Cup Slivered Raw Almonds
4 1/2 Tbsp Olive Oil
1 Diced Red Onion
3 Sliced Stalks Celery
3 Large Diced Gala Apples
2 Tbsp Finely Chopped Fresh Sage
2 Tbsp Finely Chopped Fresh Basil
Pinch Each Red Pepper Flakes, Chili Powder, Cinnamon
To Taste Sea Salt And Ground Black Pepper
3 Tbsp Fuller's Sugarhouse Pure Maple Syrup
1/4 Cup Dried Unsweetened Cranberries
2 1/2 Cups Low-Sodium Vegetable Broth
Preparation
Preheat oven to 350°F and grease a 9 x 13-inch baking dish.
Cut loaf of whole-grain bread into ½-inch cubes. Spread cubes onto 2 large, rimmed baking sheets and bake for 20 minutes until crispy and dry. Reserve in a bowl.
Add slivered raw almonds to a baking sheet and bake until golden brown, about 5 to 7 minutes. Reserve with bread cubes.
In a large skillet on medium, cook red onion in olive oil for 8 to 10 minutes, until slightly browned and tender. Add celery, Gala apples, sage and basil, pinch each red pepper flakes, chili powder and cinnamon, sea salt and ground black pepper, to taste, and pure maple syrup. Stir to combine and cook for 7 minutes.
Remove from heat, add mixture to almonds and bread cubes, along with dried unsweetened cranberries. Mix well to combine and transfer into a greased baking dish.
Pour low-sodium vegetable broth over top and bake uncovered for 45 minutes or until stuffing is nicely browned.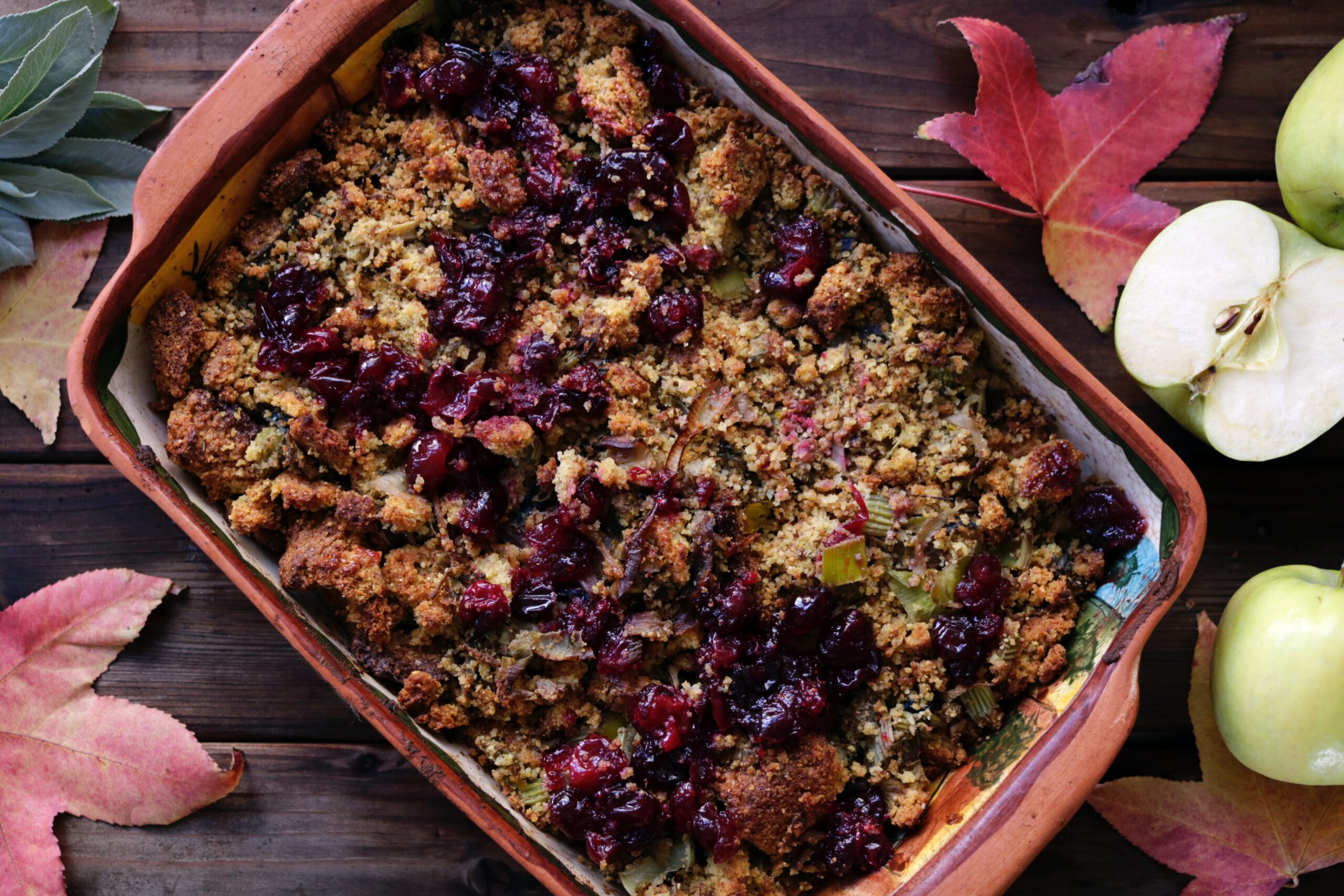 This Recipe Features:
---