Maple Cream Charcuterie Board
Ingredients
For the Maple Cream & Apple Baked Brie
1 16-ounce wheel of brie cheese
1/3 cup apple butter
2 tablespoons Fuller's Sugarhouse pure maple cream
1 apple thinly sliced
1 tablespoons Fuller's Sugarhouse pure maple syrup
1/4 teaspoon cinnamon
These are suggested items for your cheese board. Substitute with items that you enjoy..
1 Sliced pomegranates, fresh cranberries, or clementines
1 piece Aged Cheese: aged cheddar aged gouda
1 piece Hard Cheese: merlot-soaked parmesan asiago, Parmigiano-Reggiano
1 piece Blue Cheese: smoked blue gorgonzola, buttermilk blue
pick 2-3 Breads: sliced baguettes, hard sesame breadsticks, whole wheat crackers, water crackers, crostini squares, flatbreads, bagel or pita chips
pick 2-3 Charcuterie: paper thin prosciutto, hard salami sticks, pepperoni
pick 1-2 Jams + Chutneys: hot pepper jelly, sour cherry preserves, bacon marmalade, apple and berry chutneys, hummus
pick 2-3 Fruits + Nuts: grapes, dried apricots and pears, shelled pistachios, smoked almonds
pick 2-3 Tarts + snacks: olives, marinated artichoke hearts, roasted red peppers, balsamic glaze, pickled jalapeño peppers, whole grain mustard, hot and sweet mustard
Preparation
Preheat the oven to 375 degrees F. Spray a baking dish or pie plate with nonstick spray.
Score brie in a cross-hatch pattern and spread the apple butter on top of the brie cheese. Gently spread the maple cream on next. Layer on the apple slices and sprinkle them with cinnamon, then drizzle with maple syrup.
Bake the brie for 10 to 15 minutes, just until it almost bursts and the cheese is melted. Drizzle more maple cream or syrup on top right before serving. Serve with lots of crackers, crostini and breadsticks!
Place cheese on the board first and then add in bowls with spreads or nuts. After that, fill in your empty spaces with other items you purchased.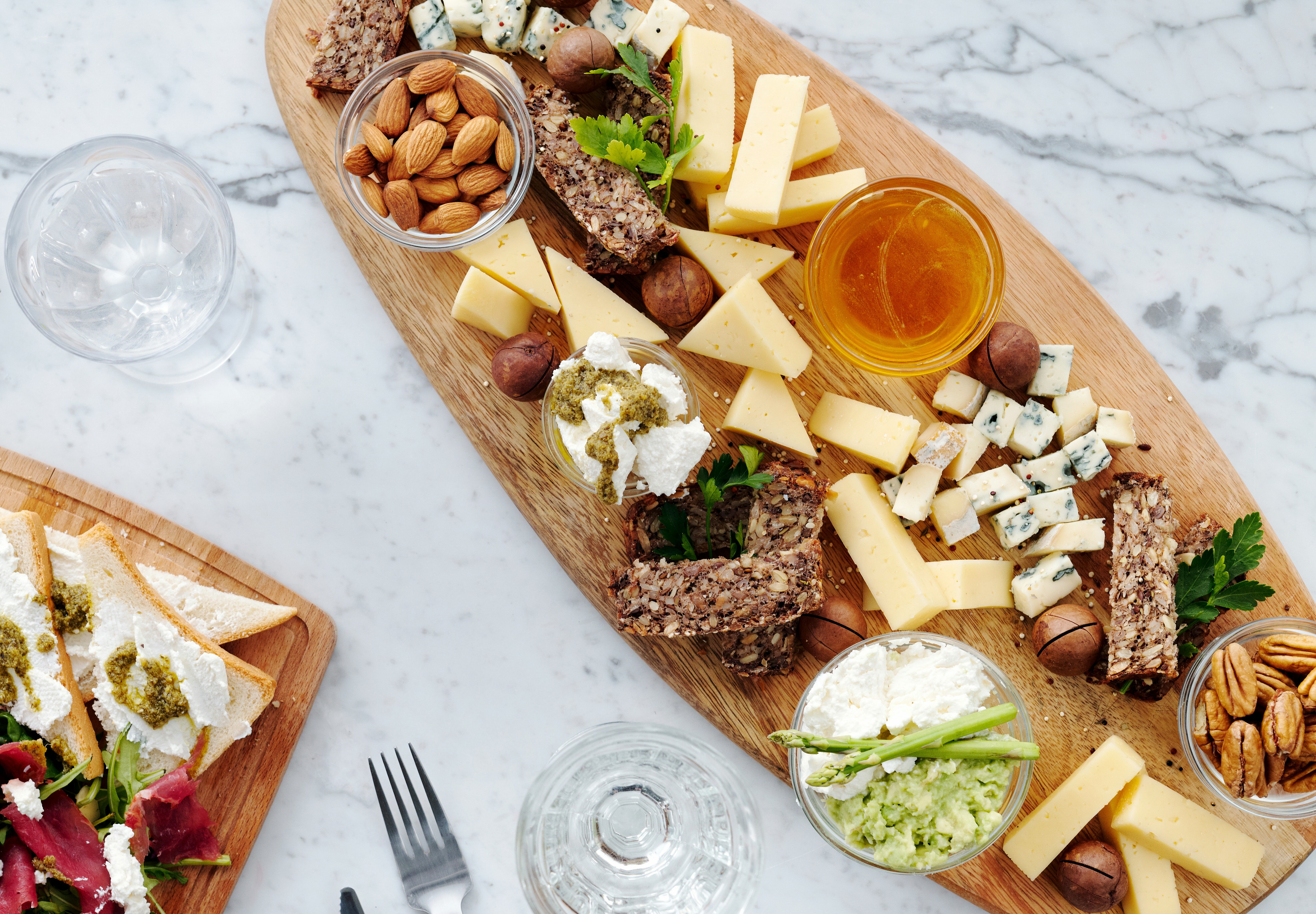 This Recipe Features:
---