Slow Cooked Maple Cider Brisket
Ingredients
4 to 5 lb. Beef brisket
2 Cloves of garlic, cut into thin slivers
1/2 pound Maple-smoked bacon, cooked and crumbled, optional 3 tbsp bacon drippings or grapeseed oil
2 Onions, halved and thinly sliced
3 Cloves of garlic, very finely chopped
1 tbsp Kosher salt
1 tsp Dried oregano
3/4 tsp Freshly ground black pepper
1/4 tsp Ground cayenne
2 tbsp Tomato paste
1 cup Strong brewed coffee
3/4 cup Apple cider vinegar
3/4 cup Maple syrup
1/2 cup Chicken broth
1 tbsp Dijon mustard
Preparation
Preheat the oven to 350° F.
Using a paring knife, cut small slits all over the brisket, inserting a sliver of garlic into each slit as you cut it. Place the brisket into a large Dutch oven or roasting pan fitted with a lid.
In a large sauté pan or saucepan, heat the bacon drippings over medium heat. Add the onions and cook, stirring occasionally until golden, about 6 to 7 minutes. Add the garlic, salt, oregano, pepper, and cayenne and stir for 1 minute. Add the tomato paste and cook, stirring continuously, for 1 minute. Stir in the coffee, vinegar, maple syrup, broth and mustard. Bring the ingredients to a boil.
Pour the contents of the sauté pan over the brisket in the Dutch oven. Cover the pan with the lid and place it into the oven. Bake for 30 minutes. Decrease the heat to 300° F and bake, basting the meat with the pan sauce once or twice, until the brisket is fork tender, about 3 hours. Allow the meat to rest for about 15 minutes. Slice the meat across the grain using an electric knife or sharp carving knife. Place the sliced meat into a large ovenproof serving container with lid. Remove the fat from the surface of the sauce. Pour the sauce over and around the meat. Cover the container with the lid.
Place the container with the brisket back into the oven for 30 minutes. Garnish with the crumbled bacon (if using). Serve immediately.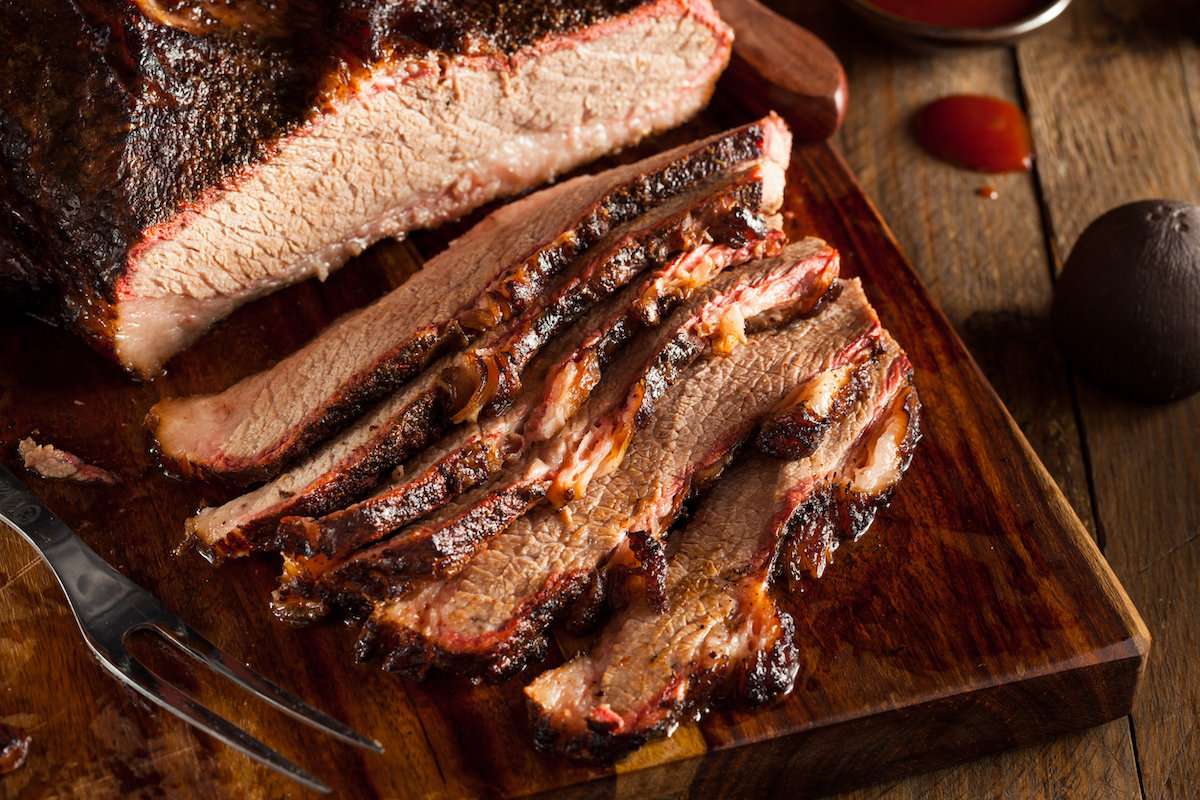 This Recipe Features:
---