Blueberry Maple Scones
Ingredients
For the Scones:
3 C. All-purpose Flour
1/3 C. Fuller's Sugarhouse Pure Maple Sugar
1 t. Grated Lemon Zest
1 t. Salt
1 T. Baking Powder
1/2 t. Baking Soda
1 1/2 Sticks Unsalted Butter, cold and cubes
1 C. Buttermilk
2 Large Eggs
1 1/2 C. Fresh or Frozen Blueberries
For the Maple Glaze
1 C. Powdered Sugar
1/2 t. Vanilla
2 T. Fuller's Sugarhouse Pure Maple Syrup
1/2 T. Cream (as needed to thin glaze)
Preparation
Preheat oven to 400°F and place baking rack in center position. Line two baking pans with parchment paper.
In a large bowl, whisk together the flour, maple sugar, lemon zest, salt, baking powder and baking soda.
Add the butter and cut with a pastry cutter or a fork until the butter is the size of large peas. In a measuring glass, whisk together buttermilk and 1 egg.
Make a well in the middle and add the liquid mixture. Mix until partially combined. Use a spatula to gently fold in the blueberries to the scone dough.
Transfer the dough to a floured surface and divide into 2 equal parts. Gently knead each into 3/4-inch thick, 6-inch diameter rounds. Cut each round into 8 wedges and place on your prepared baking pan, about 2 inches apart.
In a small bowl, combine the remaining egg with 1 teaspoon of water. Brush over the scones.
Bake for 12 to 15 minutes or until lightly browned.
While scones are baking, begin making your glaze. In a small bowl combine powdered sugar, vanilla and maple syrup. If glaze is looking thick, add 1/2 tablespoon cream, and continue to mix until smooth.
Once scones have cooled, drizzle with glaze and serve.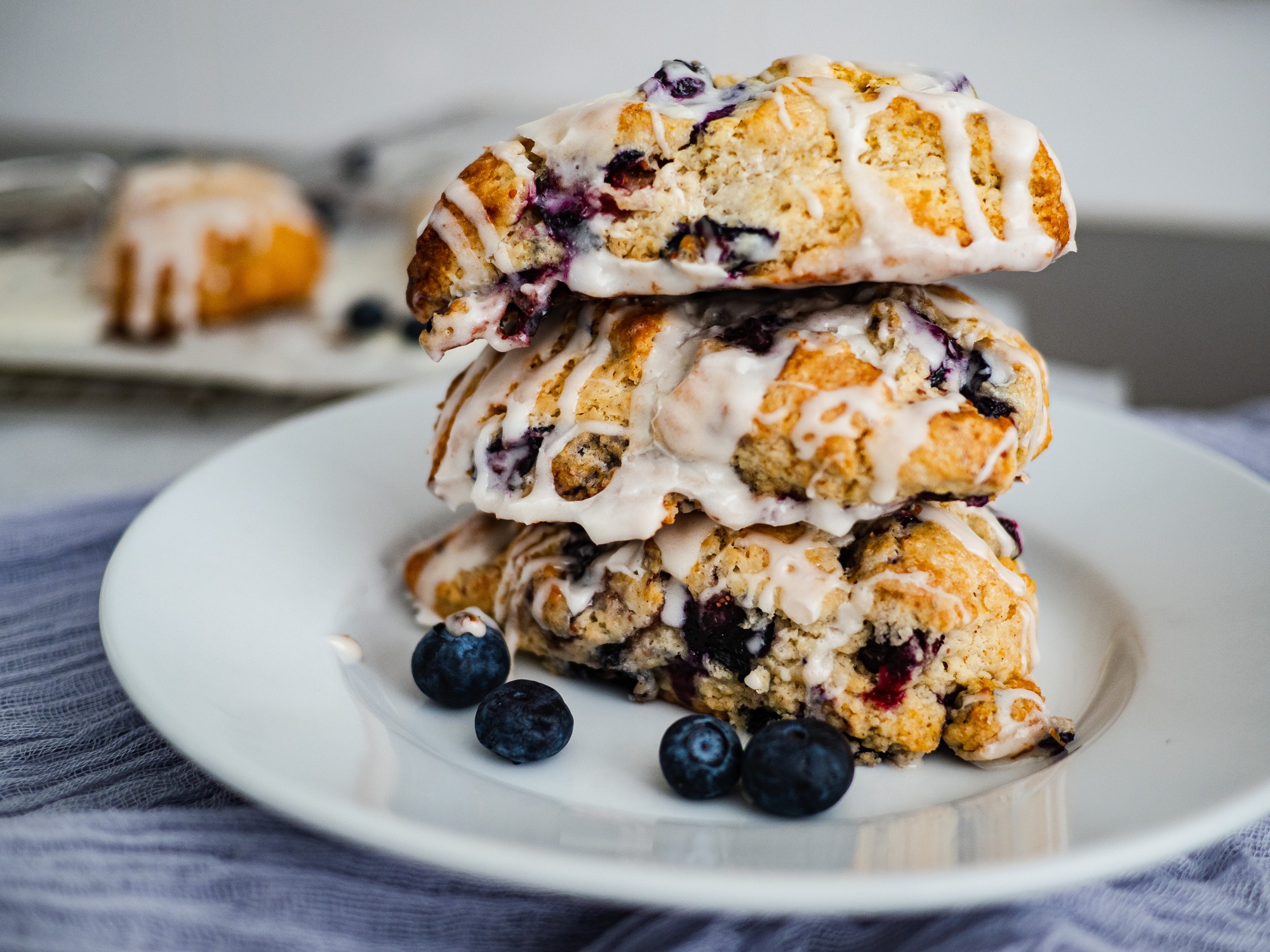 This Recipe Features:
---