Maple Oatmeal Pancakes
Ingredients
For the Berry Syrup
1/4 tsp Ground cinnamon
1/4 tsp Ground nutmeg
2 tbsp Fuller's Sugarhouse Pure Maple Syrup
1/2 cup Strawberries
1/2 cup Raspberries
1/2 cup Blueberries
For the Pancake
1 1/2 cups Rolled oats
1 cup Buttermilk
2 1/2 cups All-purpose flour
2 tbsp Granulated sugar
1 tsp Baking powder
1 tsp Baking Soda
1/4 tsp Fine sea salt
1/2 tsp Ground cinnamon
1/8 tsp Ground nutmeg
4 Eggs
1 1/2 cups Milk
2 tbsp Fuller's Sugarhouse Pure Maple Syrup
1 tsp Vanilla extract
2 tbsp Canola oil or melted butter
Preparation
For the Berries: Preheat the oven to 375 degrees F. In a large bowl, toss the berries with the cinnamon, nutmeg and Fuller's Sugarhouse pure maple syrup. Place the berries in a 9-inch glass baking dish, pour the syrup mixture over and roast until caramelized and soft, stirring a few times, about 30 minutes.
For the Pancakes: Combine the oats and buttermilk in a medium bowl and let sit for at least 15 minutes and up to 30 minutes.
Stir together the flour, sugar, baking powder, baking soda, salt, cinnamon and nutmeg in a large bowl until combined.
Whisk together the eggs, milk, maple syrup and vanilla until smooth, and then stir in the oat mixture. Add the wet mixture to the dry mixture and mix until just combined (can be lumpy). Cover and let rest for 15 minutes.
Place a nonstick griddle or nonstick frying pan over medium heat and brush with oil or melted butter. Pour the batter in scant 1/4 cup portions onto the griddle and cook until pancakes are browned on the bottom and the edges begin to look dry, about 2 minutes. Carefully turn over with a spatula and cook another 1 1/2 to 2 minutes. Repeat. Serve immediately topped with the roasted berries and more maple syrup if desired.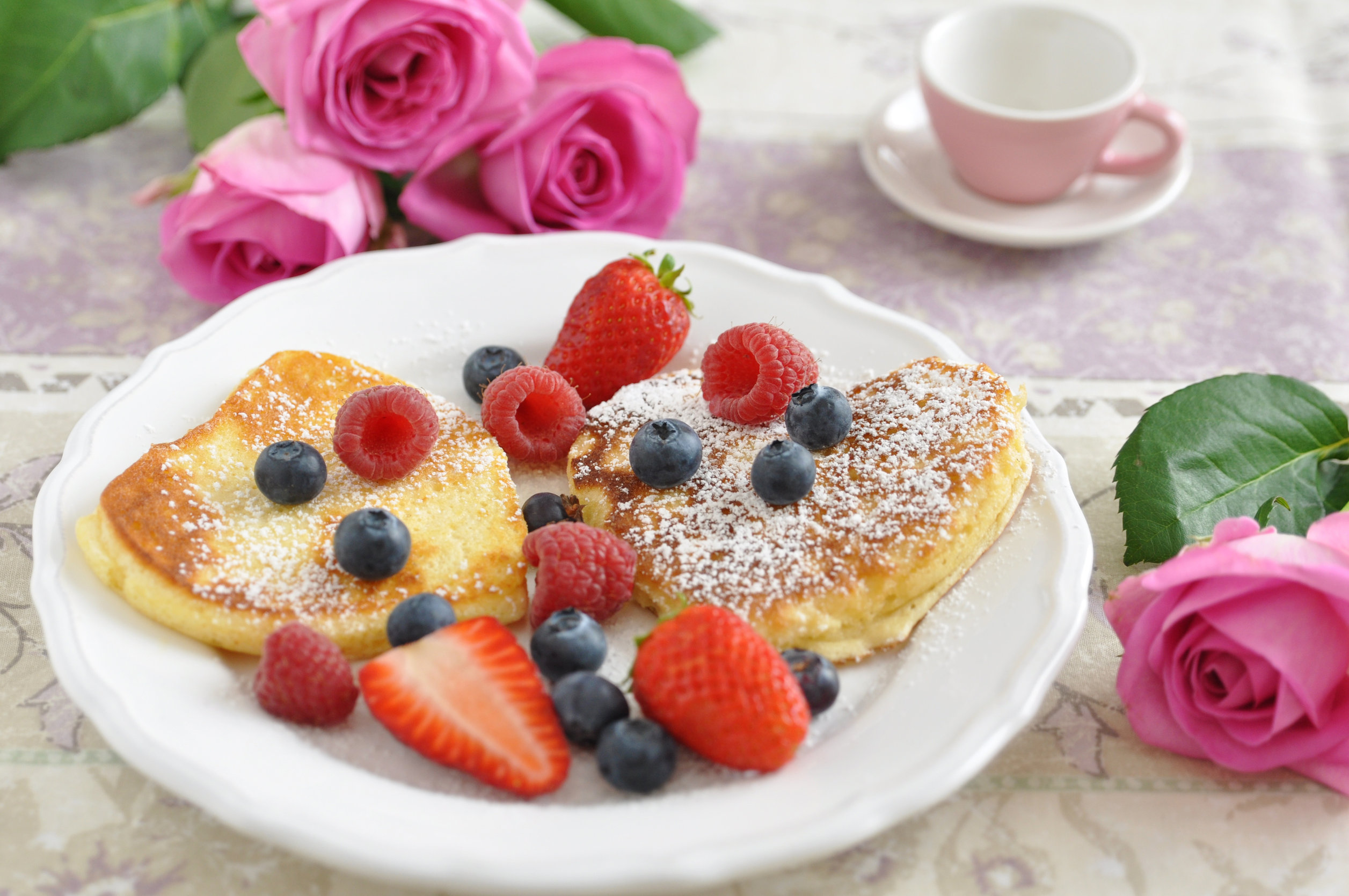 This Recipe Features:
---