Maple Apple Crepes
Ingredients
For the Filing
4 tart cooking apples, such as Granny Smith, peeled, cored, and diced
1 tablespoon lemon juice
½ cup apple juice
½ cup raisins or dried cherries
¼ cup Fuller's Sugarhouse pure maple sugar
½ teaspoon ground cinnamon
¼ teaspoon ground nutmeg
¼ cup red currant jelly or apple jelly
amount you desire Fuller's Sugarhouse pure maple cream
For the Crepes
2 eggs, beaten
1 ½ cups milk
1 cup all-purpose flour
1 teaspoon sugar
¼ teaspoon salt
Preparation
Prepare filling. In a large skillet toss together apples and lemon juice. Stir in apple juice, raisins or dried cherries, sugar, cinnamon and nutmeg. Bring to a boil over medium-high heat; reduce heat. Simmer uncovered for 5 minutes or just until apples are tender. Stir occasionally.
Stir in jelly, let cook for 5 more minutes. Lower heat to keep warm.
Prepare crepes. In a blender, combine all ingredients until smooth.
Heat a lightly greased small skillet over medium-high heat. Remove from heat and pour 2 tablespoons of batter onto skillet; lift and tilt skillet to spread batter evenly.
Place skillet back on heat and cook for 1 minute or until brown on one side. Turn crepe over to cook the other side.
Slide crepe onto a paper towel-lined plate. Repeat with the remaining batter.
Once crepes are cooked, spread ¼ cup of apple mixture over each crepe. Fold crepe over and place a spoonful of Fuller's Sugarhouse pure maple cream over filled crepe.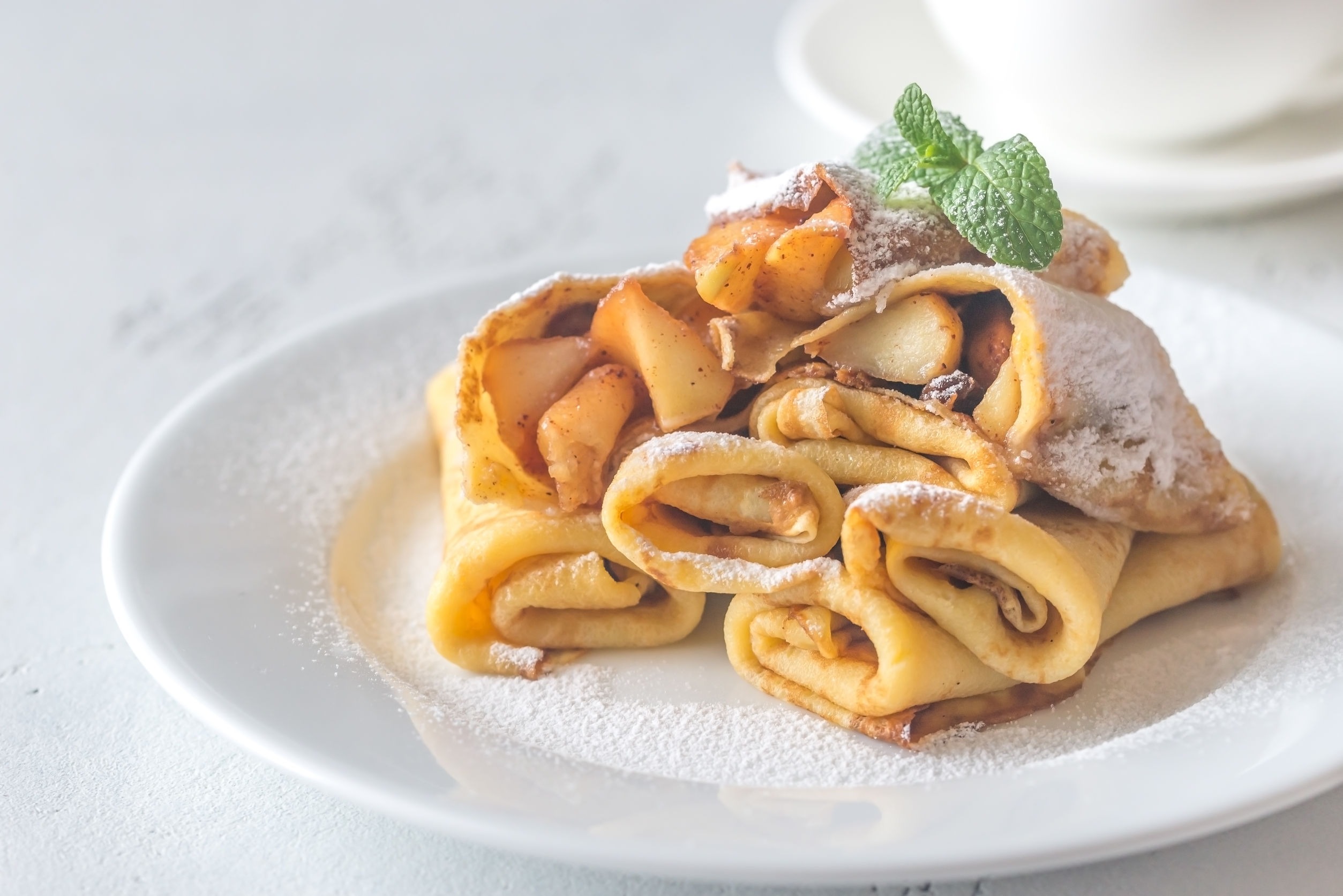 This Recipe Features:
---