Maple Cinnamon Caramel Popcorn
Ingredients
Popped Popcorn (yields about 6 cups)
1/3 cups popcorn kernels
1 T. coconut oil or extra-virgin olive oil
Cinnamon Maple Caramel Corn
6 cups popped popcorn
3/4 cup sliced almonds or other nuts (optional)
1/2 cup Fuller's pure maple syrup
3 T. almond butter or nut butter of choice (peanut butter and cashew butter work, too)
1 1/2 t. pure vanilla extract
1/4 t. sea salt
1/4 t. cinnamon, plus more for sprinkling
Preparation
Preheat oven to 350 degrees Fahrenheit. Line a rimmed baking sheet with parchment paper
2. Toast the nuts: Once the oven has preheated, arrange the almonds (or other nuts) in a single layer on the parchment paper. Roast the nuts in the oven for 7 to 10 minutes, until fragrant. Keep an eye on them so they don't burn. If you're using whole nuts, chop the toasted nuts into small pieces on a cutting board.
Meanwhile, pop the popcorn: First, place a large mixing bowl near the stove. Pour the oil into a large, heavy-bottomed pan with a lid. Turn the heat up to medium, add 2 kernels of corn, and cover. Once the kernels pop, remove the lid and pour in the remaining popcorn kernels. Cover the pot and give the pot a little shimmy to distribute the kernels evenly.
Cook over medium heat, shaking the pot occasionally. Crack the lid slightly so the popcorn stays crisp, and cook until the popping sound slows to about one pop per every few seconds. Remove the pan from heat and dump the popcorn your bowl, taking care not to pour in any unpopped kernels at the bottom of the pot. If necessary, pick out any unpopped kernels that made it into the bowl with a spoon.
To make the caramel sauce: In a small, heavy bottomed pot, bring the maple syrup to a boil over medium heat. Keep a watchful eye on the syrup and continue boiling for 2 minutes and 30 seconds, reducing heat only if necessary to prevent overflow. Remove the pot from heat.
Add the nut butter, vanilla extract, salt and cinnamon to the pot of maple syrup. Whisk until well blended. Add the nuts to the popcorn, then drizzle the maple mixture over the popcorn and nuts. Toss with a rubber spatula or big spoon until well mixed. Pour the popcorn onto the parchment-covered baking sheet and arrange it in a single layer.
Bake the popcorn for 6 minutes, then rotate the pan and cook for another 2 minutes. Remove from oven and sprinkle with additional cinnamon and salt, to taste. The popcorn will continue to crisp up as it cools. Once it's cool, break the popcorn into pieces (or leave them in chunks!) and serve.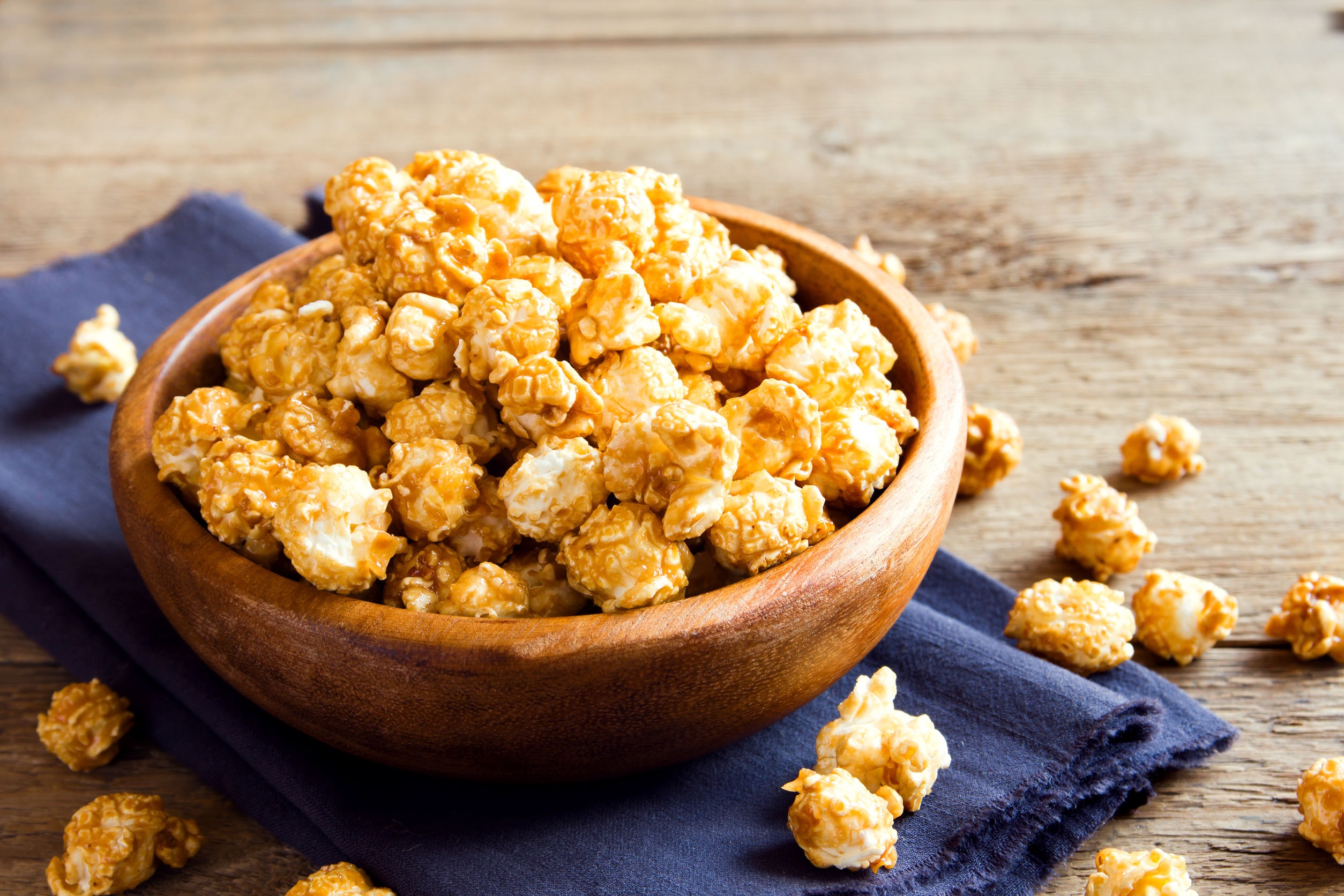 This Recipe Features:
---