Maple Pecan Popcorn Balls
Ingredients
16 C. freshly popped popcorn (made from about 2/3 cup popcorn kernels and 3 tablespoons canola oil — work in batches if necessary)
2 C. Granulated sugar
2/3 C. Water
1/4 C. Light corn syrup
1/4 C. Fuller's pure maple syrup
1 Stick unsalted butter, plus additional for greasing
2 t. Salt
1/8 t. Cream of tartar
1 C. Toasted pecans, chopped
Preparation
Lightly butter the inside of a large bowl. Pour warm popcorn into buttered bowl.
Mix sugar, water, corn syrup, maple syrup, butter, salt and cream of tartar in a large saucepan over medium heat. Bring to boil, stirring often. Attach candy thermometer to the inside of the pan.
Continue heating undisturbed until temperature reaches 268F (hard-ball stage), about 10 to 15 minutes.
Remove pan from the heat; stir in nuts. Slowly drizzle sugar mixture over popcorn, tossing gently with a spatula.
Working quickly and wearing rubber gloves that you've buttered, gather about 1/2 cup of the coated popcorn together at a time, and form into balls without compacting too tightly.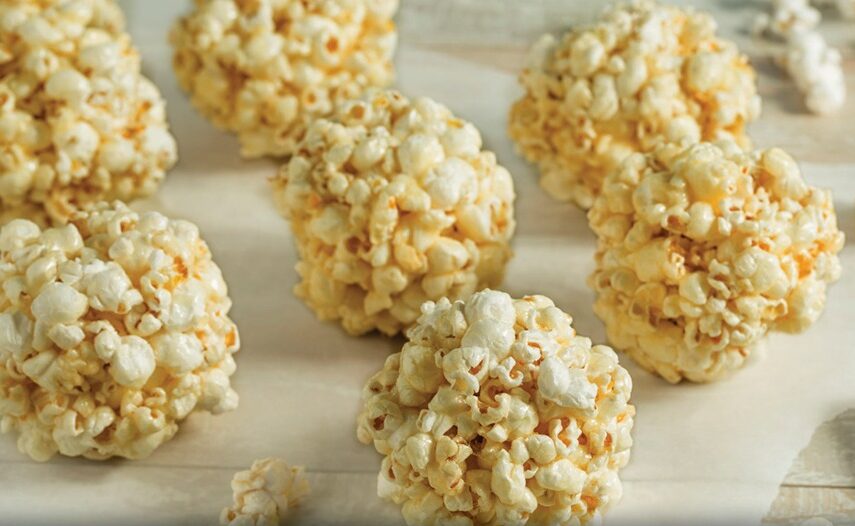 This Recipe Features:
---