Maple Delicata Squash & Onions
Ingredients
2 lbs. Delicata squash
1 medium Red onion, sliced
2 T. Extra-virgin olive oil
1/4 t. Salt
1 t. Fresh rosemary, chopped
1 T. Fuller's Sugarhouse pure maple syrup
1 T. Dijon mustard
Preparation
Preheat oven to 425°F.
Cut squash in half lengthwise, then crosswise; scoop out the seeds. Cut lengthwise into 1/2-inch-thick wedges. Toss with onion, 1 tablespoon oil and salt in a large bowl. Spread in an even layer on a baking sheet.
Roast, stirring once or twice, until tender and beginning to brown, about 30 minutes.
Combine the remaining 1 tablespoon oil, rosemary, syrup and mustard in a small bowl. Toss the vegetables with the dressing.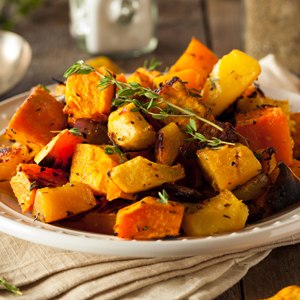 This Recipe Features:
---