Maple Nut Granola
Ingredients
5 cups old-fashioned rolled oats
1 cup unsweetened coconut chips or flakes
½ cup sliced almonds
½ cup coarsely chopped pecans
½ cup light brown sugar
⅓ cup unsalted pumpkin seeds
⅓ cup unsalted sunflower seeds
½ cup Fuller's Sugarhouse Pure Maple Syrup
½ cup water
¼ cup canola oil
½ cup dried cranberries
½ cup raisins
Preparation
Preheat oven to 275°F.
Combine oats, coconut, almonds, pecans, brown sugar, pumpkin seeds and sunflower seeds in a
large bowl. Combine Fuller's Sugarhouse pure maple syrup, water and oil in a medium bowl or large measuring cup and pour over the oat mixture; stir until well combined. Spread the mixture into a large (12-by-15-inch) roasting pan or large rimmed baking sheet.
Bake for 45 minutes. Remove from the oven, stir, and continue baking until golden brown and beginning to crisp, about 45 minutes more. Stir in cranberries and raisins. Let cool completely before storing.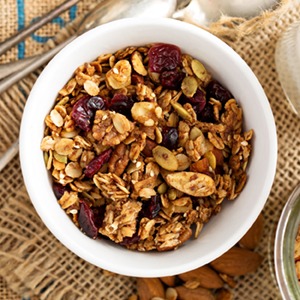 This Recipe Features:
---