Maple Peach Crisp
Ingredients
For the Peach Filling:
2 1/2 pounds peaches – about 6–7 medium, peeled
1/4 cup Fuller's Sugarhouse pure maple syrup
3 tablespoons all-purpose flour
1 teaspoon lemon zest – from about 1 medium lemon
1 teaspoon vanilla extract
1/4 teaspoon nutmeg
For the Crisp Topping:
1/4 cup unsalted butter
1/4 cup olive oil
1/3 cup light brown sugar
2 tablespoons granulated sugar
1 cup rolled oats
1 cup white whole wheat flour
1/2 teaspoon ground cinnamon
1/2 teaspoon kosher salt
For serving Vanilla ice cream
Preparation
Preheat oven to 375 degrees. Lightly coat a 9×9 inch casserole dish with nonstick spray.
Cut peeled peaches into thick slices and place in a medium-sized bowl.
Stir in the maple syrup, flour, lemon zest, vanilla extract, and nutmeg. Set aside while you make the topping.
Prepare the topping: In a medium saucepan, heat the butter and oil over medium heat, until the butter melts.
Whisk in the brown sugar and granulated sugar until Once combined, sprinkle in the oats, white whole wheat flour, cinnamon, and salt. Stir until the ingredients are evenly moistened, then add in the almonds.
Transfer peach filling mixture into the prepared baking dish. Sprinkle the topping evenly over the fruit.
Place the crisp in the oven and bake for 20 minutes. Place aluminum foil over the top and continue to cook for 10-15 or until the topping is lightly golden and the filling is hot and bubbly.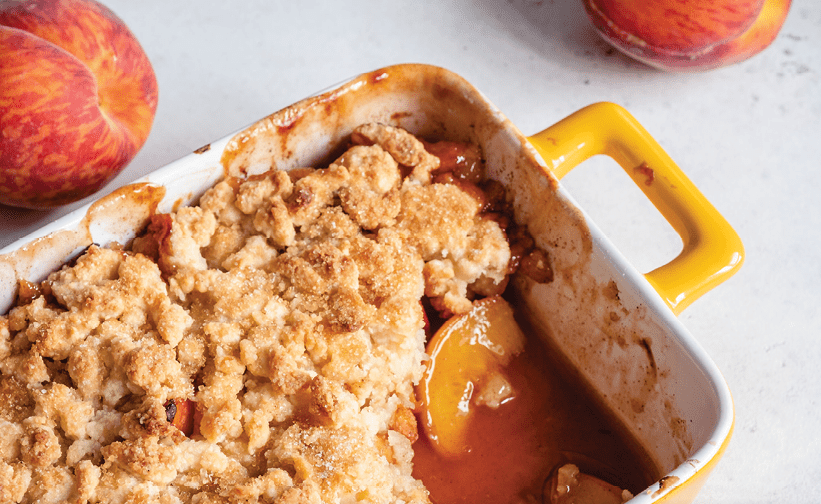 This Recipe Features:
---