Maple Soft Pretzels
Ingredients
1 tbsp Fuller's Sugarhouse maple syrup
1/2 package (1/2 tbsp) Active dry yeast
3/4 cup Water (1/4 cup for proofing, ½ cup for dough)
2 tbsp Olive oil or canola oil
2 cups All-purpose flour
1 tsp Sea salt
2 tbsp Baking soda (this is for the boiling water NOT the dough)
6 cups Water, in a pot (for boiling)
Coarse salt (for sprinkling)
Preparation
Proof the yeast: Put ¼ cup warm water, maple syrup, and yeast into a small cup and stir until yeast dissolves. The yeast should foam.
Make the dough: Using a mixer or hand-kneading, mix the flour, salt, oil, proofed yeast mixture, and an additional ½ cup of water (for a total of ¾ cups water). Run mixer on medium low for about 5-6 minutes or knead dough ingredients for about 8-10 minutes.
Brush the inside of a large glass bowl with a little bit of oil. Form the dough into a ball and put it in the bowl. Cover and allow the dough to rise for about 40 minutes.
Preheat your oven to 450 degrees F.
Uncover your dough and punch it down few times.
Prepare a cookie sheet with parchment paper on it. Set aside.
Prepare an oiled work surface. Cut the dough into 4 or 6 equal and roll each out to an 18-24-inch-long rope.
Grab the ends of each dough rope to make a U shape, then form into a pretzel shape.
Put 6 cups of water into a pot and dissolve the 2 tablespoons of baking soda into the water and bring to a rolling boil.
Drop pretzels, one at a time, into the pot. Each should sink a little then rise up. Wait 30 seconds, then lift out using a slotted spoon and place each onto the cookie sheet. While still wet, sprinkle liberally with coarse salt. Take a sharp knife and cut a 4-6 inch slit along the bottom of the pretzel.
Bake for about 14 minutes or until golden brown. Serve with a side of Fuller's Maple Mustard for dipping.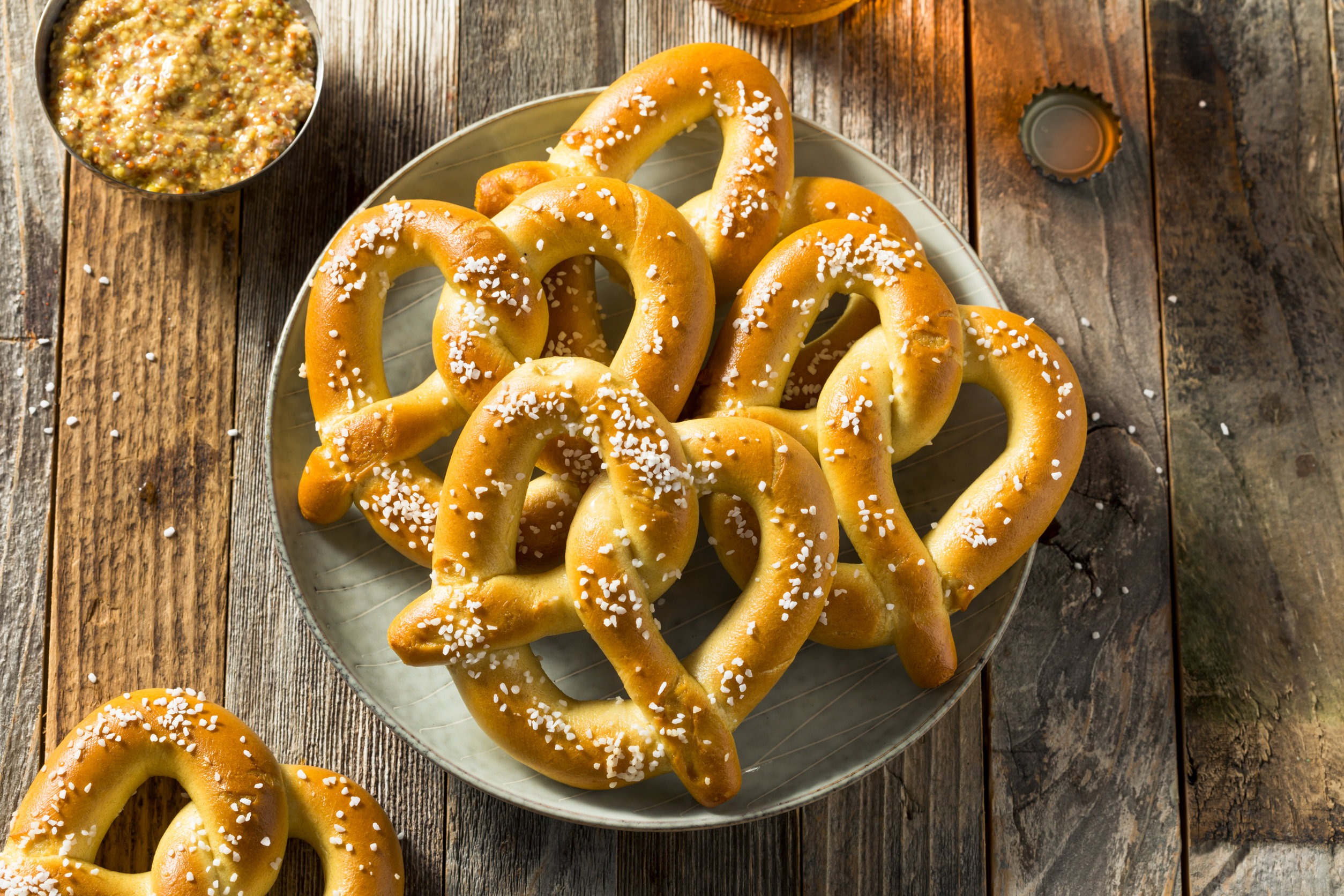 This Recipe Features:
---