NH Maple Butter Tart
Ingredients
Filling:
1/3 cup Fuller's Sugarhouse pure maple syrup
2/3 cup packed dark brown sugar
1/4 teaspoon coarse kosher salt
1/2 stick (1/4 cup) unsalted butter, very soft
1 teaspoon pure vanilla extract
1 large egg
Shortbread crust:
1 1/2 cup all-purpose flour
1/2 cup confectioners' sugar
1 teaspoon kosher salt
1 stick cold unsalted butter, cubed
1 teaspoon pure vanilla extract
1 large egg
Preparation
Preheat oven to 425 degrees, and line a baking sheet with parchment paper.
Add all crust ingredients to the bowl of a food processor, and pulse to incorporate. Once butter is broken down to pea-size pieces, turn the processor on and allow it to run until dough comes together in a ball and is clearing the sides of the bowl.
emove from mixer and divide into 4 equal pieces. Press shortbread dough into 4, 5" tartlet pans, flattening bottom and pushing up sides of pan with a small flat-bottomed measuring cup or a shot glass. Sweep away any excess dough that goes over edges of pan, so finished tart has a clean crust. Refrigerate until ready to use.
In a medium size bowl or glass measuring cup, mix maple syrup, brown sugar and salt. Add butter and stir until combined.
Next, add vanilla extract and egg, and stir very gently until just incorporated. Do not use a mixer, and be sure to stir ingredients gently by hand, as not to incorporate air to the mixture. Carefully, divide filling between chilled tartlet pans no more than 3/4 full, and bake for about 19 minutes.
Tarts should be set around the edges, but still jiggly and gooey in the center. Watch crusts carefully as not to burn exposed edges*
Remove from oven and allow to cool slightly before removing from tart pans and moving to a wire rack to cool completely (leaving in the pan for entire cool time will create soggy bottoms). Enjoy!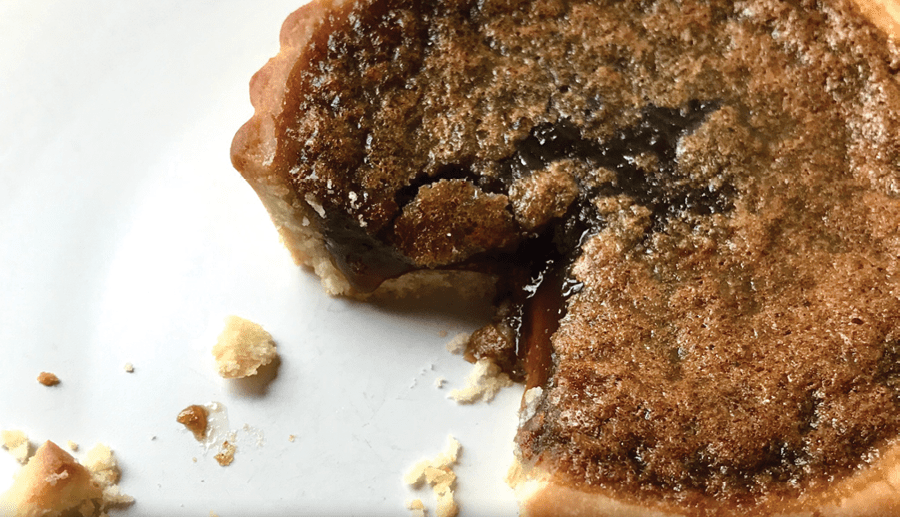 This Recipe Features:
---