Maple Apple Chips
Ingredients
3-4 medium apple (Fuji, Pink Lady, Cortland or Gala work well)
1/4 cup maple syrup
1 tsp. ground cinnamon
Preparation
Preheat oven to 200 degrees.
Mix together maple syrup and cinnamon in a small bowl. Rinse and core the apples, using an apple corer. Then slice a quarter off the top and bottom of the apple. Slice the remaining apple using a mandolin set to 1/8″ thickness.
Spread apple slices evenly across two baking sheets. Use parchment paper for easier clean-up. Using a pastry brush, coat apple slices with maple syrup.
Bake for approximately 1 1/2 – 2 hours, rotating twice. Baking times will vary depending on apples and how thick you sliced them.
Maple Apple Chips will crisp up slightly once cool, and are ready to enjoy!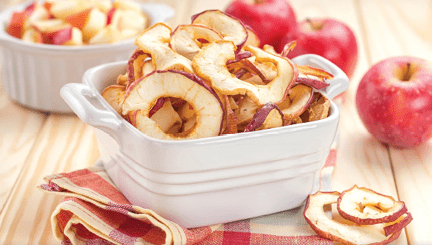 This Recipe Features:
---