Maple Chocolate Chip Pancakes
Ingredients
1 ½ cups all-purpose flour
½ teaspoon salt
1 tablespoon baking powder
1 ¼ teaspoon white sugar
1 egg
1 cup milk
½ tablespoon butter, melted
½ cup mini chocolate chips
(to grease griddle) Butter
(for drizzle and dipping) Fuller's Sugarhouse pure maple syrup
Preparation
Sift flour, salt, baking powder, and sugar together in a large bowl. In a separate bowl, beat the egg and milk.
Add the egg mixture to the flour mixture, then stir in butter and chocolate chips.
Give batter some time to sit. While you are doing that, heat up the griddle and grease with butter.
Pour batter, ¼ cup at a time, onto hot, greased griddle. Cook until pancakes start to bubble, and then flip. Be sure to not flip the pancakes more than once. Serve hot with Fuller's Sugarhouse pure maple syrup and garnish with banana as desired.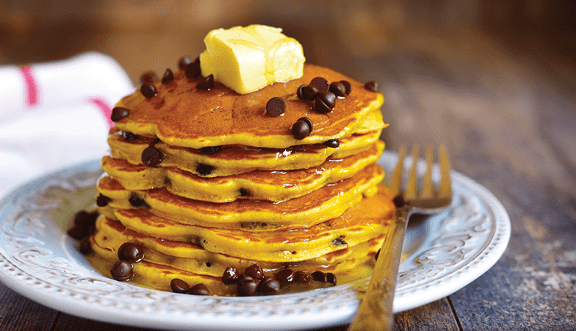 This Recipe Features:
---