Maple Fried Chicken & Waffles
Ingredients
For the Fried Chicken
1 tsp kosher salt
1/2 tsp. freshly ground black pepper
1 tsp. paprika
1/2 tsp. garlic powder
1/2 tsp. onion powder
1/8 tsp. cayenne pepper
2 lbs. boneless, skinless chicken thighs
(for frying) vegetable oil
1 c. buttermilk
1 egg
1 1/2 c. all-purpose flour
1 tbls. cornstarch
For the Cinnamon Buttermilk Waffles
2 c. all-purpose flour
2 tbls. granulated sugar
2 tsp. baking powder
1 tsp. baking soda
1 tsp. ground cinnamon
1 tsp. buttermilk
1/2 c. unsalted butter, melted
2 large eggs
For the Hot Sauce Maple Syrup
1/2 c. Fuller's Sugarhouse pure maple syrup, warmed
2 t. hot sauce
Preparation
In a small bowl, combine the salt, pepper, paprika, garlic and onion powder. Season the chicken breasts with the mixture and place in a medium bowl. Let the chicken marinate in the spices for at least an hour.
Fill a large frying pan halfway with vegetable oil. Heat the oil to 350ºF.
Whisk the buttermilk and egg together in a medium bowl. In a shallow bowl stir flour and cornstarch together. Once piece at a time, dip chicken in the buttermilk then dredge in the flour mixture.
Fry in the oil until the chicken is golden brown on all sides. Remove the chicken from the oil and place on paper towels to drain the excess oil.
While the chicken cooks, begin to make the waffles. In a medium mixing bowl whisk together the flour, sugar, baking powder, baking soda, salt and cinnamon. In large mixing bowl whisk together the buttermilk, melted butter and eggs until thoroughly combined. Slowly stir the dry ingredients into the wet ingredients, until just combined.
Spray waffle iron with vegetable oil cooking spray then spoon the mix into waffle maker until the surface is completely covered and cook until golden brown according to waffle maker instructions. Repeat with remaining waffle batter.
While the waffles cook, whisk the maple syrup and hot sauce together in a small bowl and set aside.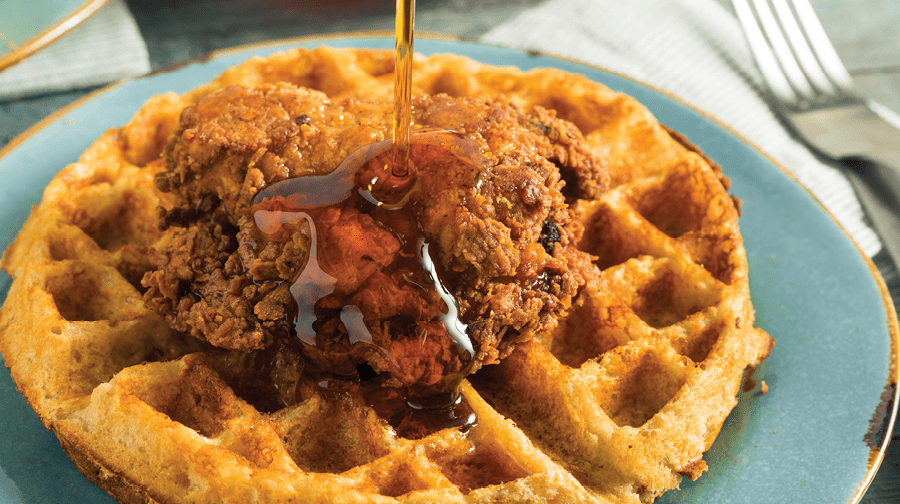 This Recipe Features:
---