Maple Mustard Pork Belly
Ingredients
2 pounds pork belly, scored
2 tablespoons Fuller's Sugarhouse pure maple syrup
2 teaspoons wholegrain mustard
2 teaspoons apple cider vinegar
2 teaspoons finely chopped rosemary
Preparation
Preheat oven to 350 degrees.
Place the pork, rind side up, on a wire rack over a roasting pan. Fill pan with enough water to reach just below the pork.
Season pork with salt, rubbing it into the scores, then place in oven to cook for 40 minutes.
While pork is cooking, combine Fuller's Sugarhouse pure maple syrup, mustard, vinegar, and rosemary in a bowl and set aside.
After pork has cooked for 40 minutes, reduce heat to 300 degrees for another 90 minutes or until rind is well cracked and flesh is tender.
Drizzle the maple syrup mixture over the pork and let cook for 5 more minutes. Set aside for 10 minutes to rest, then cut into pieces.
If desired, serve with extra mustard and rosemary for garnish.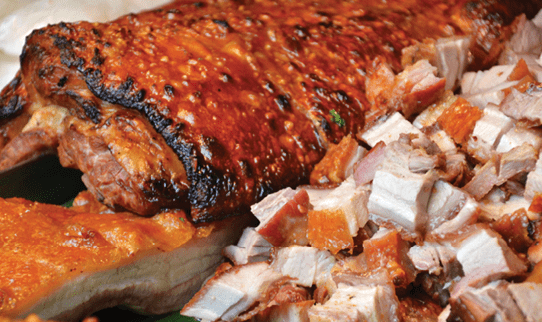 This Recipe Features:
---